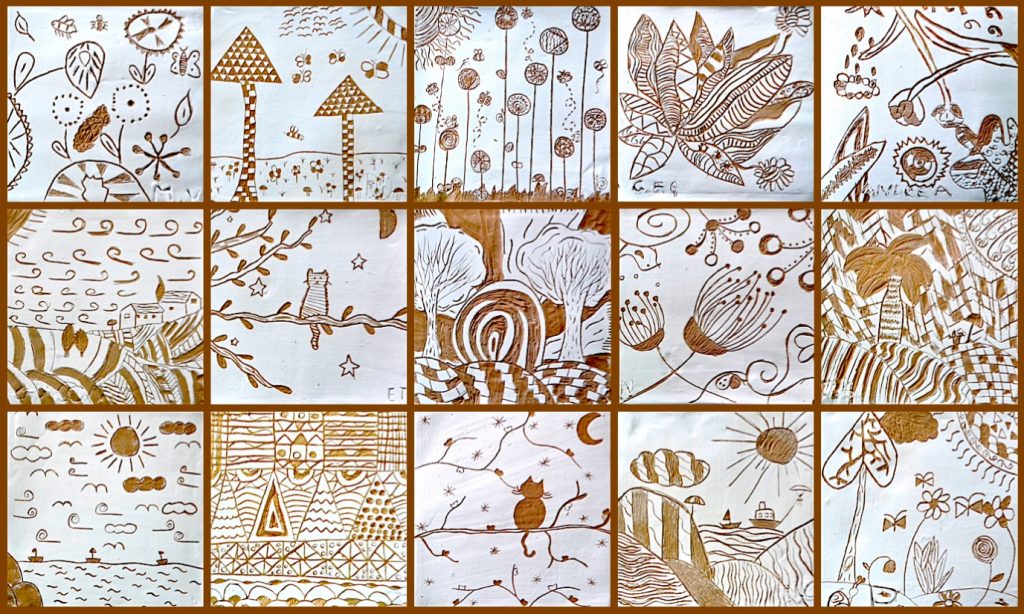 This activity was done by Daniela De Luca, a restorer-potter who leads workshops at Primary Schools, Summer camps and leisure centers. These tiles were created at the Mezzocorona Primary School (Trento, Italy) , by children of Grade 5.
The tiles are made of Terracotta, a red-brown porous earthenware clay. To begin, cut 1,5-2 cm –thick slabs off the bag of clay. Put the slab between two pieces of wooden slats, which are the desired thickness of your tile. Press slightly the clay by hand and then roll it firmly with a wooden rolling pin.
After that, trim the slabs, cutting a square shape around 15×15 cm.
When the clay is leather-hard spread a layer of white slip with a soft paintbrush. When the slip is dry you can scratch or carve the layer exposing contrasting claybody beneath.
Daniela's students had previously drawn some simple drawings as little landscapes, animals or flowers with pencils on paper, in order to have a clear sketch of what they would like to carve on the tile.
The tiles were fired in the kiln at around 980 C°.
Thanks to Daniela and her Children for sharing their amazing work!