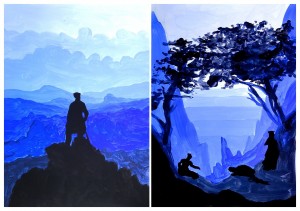 The Romantic works of Friedrich lend themselves to an interpretation of the landscape that can be divided into a value scale.
In these two exercises Friedrich's paintings were traced on tracing paper with a pencil and the drawing thus obtained was then traced on a white sheet.
We started with acrylic paint starting from the lightest color and then we added more and more blue, to get the blue tonal gradation. from then on we added small amounts of black up to the saturated black.