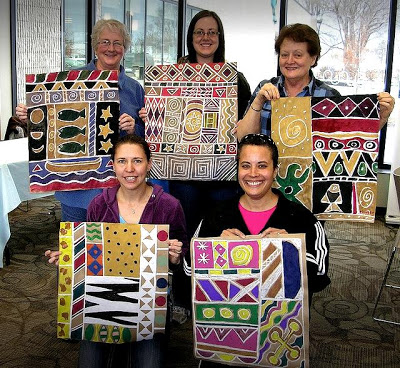 Yesterday, I was delighted to receive a lovely email from Cynthia Vana, a Library Specialist in Omaha, Nebraska, USA. 
She led a workshop at the 
Florence Branch of 
Omaha Public Library where the participants used white oil pastels and acrylic paint to create African patterns on brown craft paper. Her workshop, part of a February program series celebrating African American Heritage Month in the United States, was inspired by one 
of my lessons. You can find this lesson in a previous post called African patterns on wrapping paper. 
Sixteen women attended Cynthia's workshop and each of them produced a unique and beautiful piece! You can find more photos of her workshop on Omaha Public Library's Flickr page.
What gave me the most pleasu
re was to see such smiles on the all the students' faces — they obviously had a lot of fun and were very satisfied with their beautiful work!
Well done Cynthia! (and Omaha Public Library!)