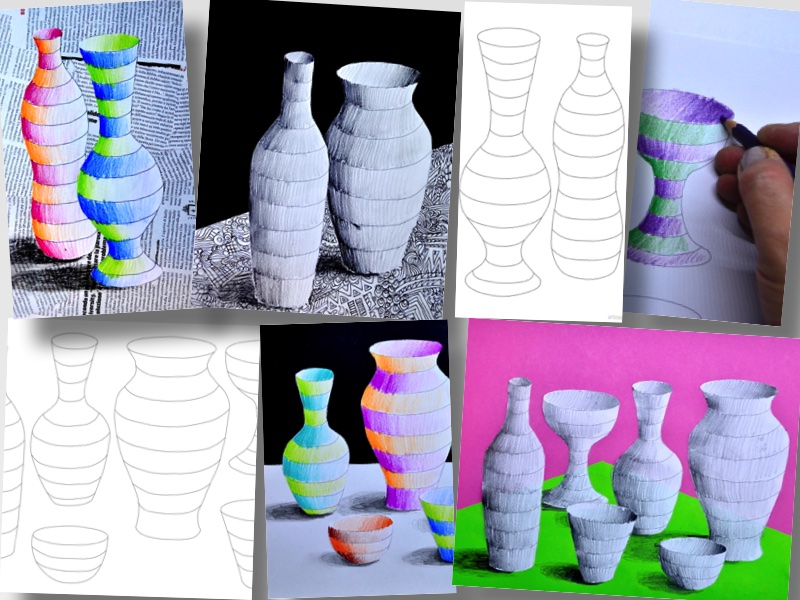 In the review of our work on still life and the value, which has been very successful among my students, I would like to propose a worksheet that you can exploit in many ways. Here are four different proposals with the same subject, from which you can find many other ideas. The topics that can be treated are the still life, the position of shapes in the space, the light and shadow (form shadow and cast shadow), the chiaroscuro, mixed media, color theory, zentangles ….
Here you can find three printable worksheets with bottles small and large.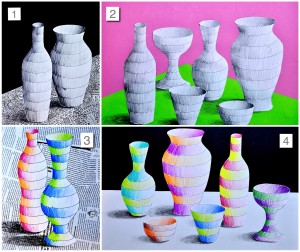 1st suggestion: bottles with colored stripes, mounted on a white sheet with a black background. You can experience the chiaroscuro, thinking about the arrangement of shapes in space, and then draw the cast shadows on the white surface.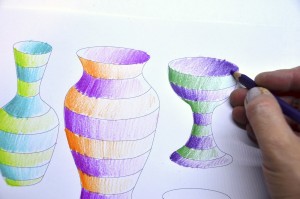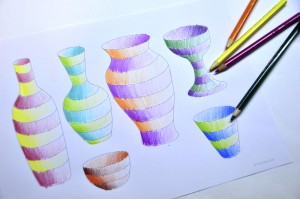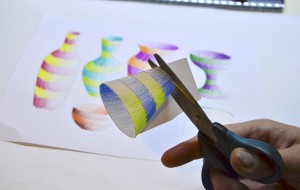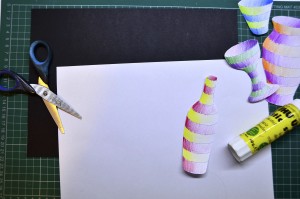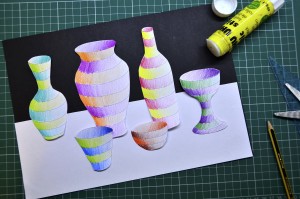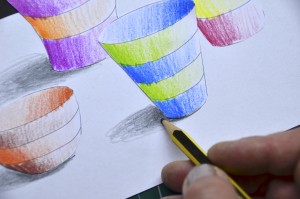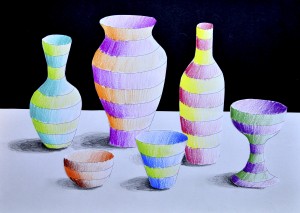 2nd suggestion: bottles with light and shade in pencil, on colored backgrounds that highlight the lights and shadows. Here you can work on the correct arrangement of objects, and the choice of colors. For example you can do the background with colored cardboards in complementary colors, warm or cool … An alternative to carddboards may be to paint the background with tempera, as in the work that you can see here.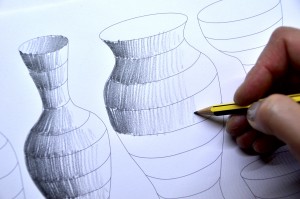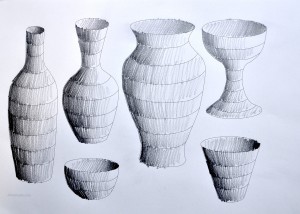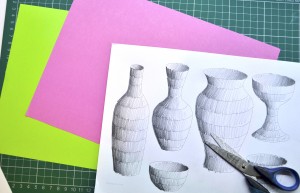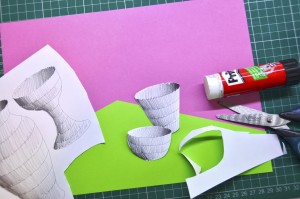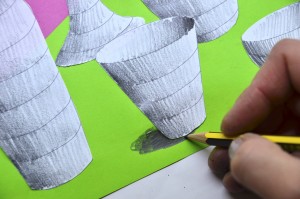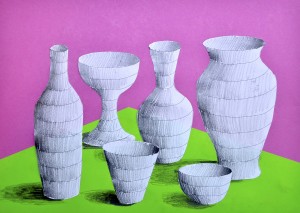 3rd suggestion: larger bottles placed vertically, colored with colored pencils and pasted on a collage background.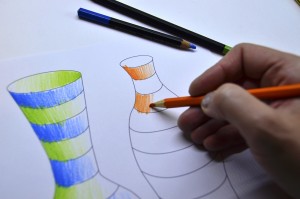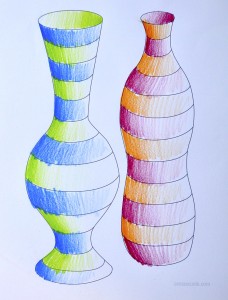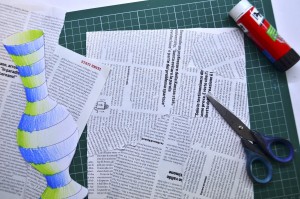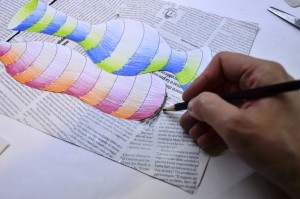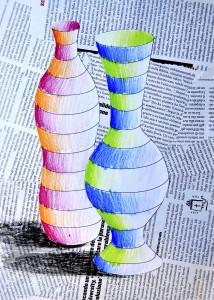 4th suggestion: Bottles in black and white, with their form shadows and cast shadows, drawn in pencil, on a background of zentangle drew with a black pen. Even here the variants could be many, the background may be colored rather than black, with zentangle colored on white ground, or with decorations made in white pencil on black cardboard.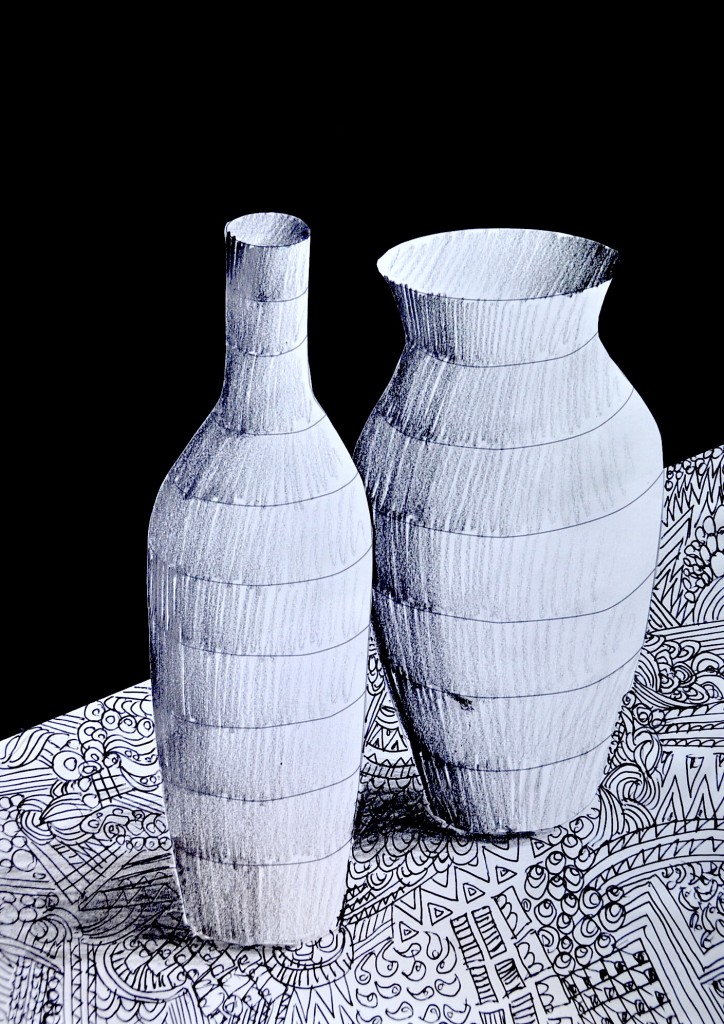 Do you have another idea? you can suggest it to your students, draw it , photograph it, and then send it to me, so we can lengthen the list!
Here we have the new suggestion from Helen, a special art teacher from the UK. She's currently teaching in Malaysia as volunteer in a refugee school. She teach 12 – 18 year olds and has very limited resources. She took your the idea with shadow in pencil, and then she used oil pastel to add flowers. Thanks Helen!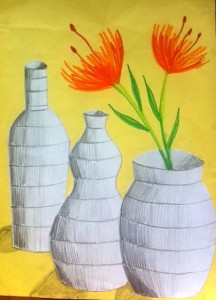 Here we have the suggestion of the teacher Paolina Crispas better known as maestra Lina. She's teacher of literature, history and art in the Primary School Margherita Hack, in Bagnaria Arsa (Udine), in Italy. Her students are in grade 5° and have drew these colored bottles and vases with colored pencils. They have pasted the bottles on a round table and a black background. I like the idea with the "dancer" bottles, it's fun! Thanks Lina!