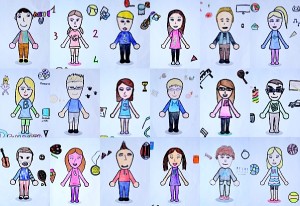 It's very common among teens, creating "avatar" characters, in video games or social networks. These minifigures are used to represent yourself into a game or in a community. Everyone can create their own figurine, changing the features of the eyes, nose, mouth, hair. For the beginning of this year I thought I'd use Mii characters, from the video game console Wii.

But, create them on the computer is too easy! Let's try instead to draw them and use our imagination! We start from a template, and we draw our physical features, then we complete the drawing with some objects that characterize us (our hobby, our preferences, our desires …). Finally we write below our name and we are ready for confrontation!
Now is the time of the photo-portrait with the drawing of the Mii beside your face: you resemble each other? In this way I can create a useful list of photos, matched to names and your interests, in order to know better every student and start the school year in a fun way.
You can find the template of Mii here.