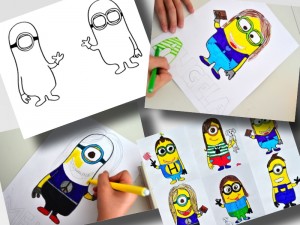 Everyone knows the funny Minions, the small yellow handyman from the movie "Despicable Me". You can buy the 2 templates for this lesson, in which we began to know each other by drawing our avatar Minion.
Each student may draw himself in the form of a "minion", with his name written below the figure and an object that characterizes his own personality and preferences. Every pupil can also draw a different shape for the mouth and the eyes, in order to give an expression to his avatar. The template could be completed with comics balloons or landscapes in the background.
When my students completed the drawings I photographed them along with the faces of the children, in order to have my own personal photo archive to learn the name of each student.
This lesson is suitable for students of every grade, from primary to secondary school.