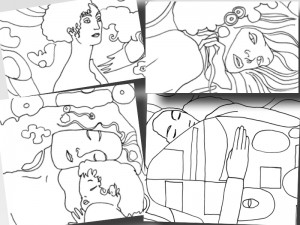 The firsts 4 pdf printable worksheets with the drawings of famous works of Gustav Klimt, ready to be coloured with pencils or felt tip pens, and completed with gold paper collage in the style of Klimt . You can propose to your students to copy his patterns, or to colour in a personal way this worksheets. A useful art lesson for students of Primary and Secondary School.
In this lesson we shadowed the faces, hands and body parts with a pencil, and the rest of the worksheets has been coloured.
Below are the details of the original works of Klimt.