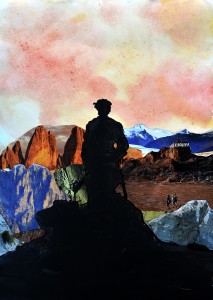 In the wonderful Romantic work of art "Wanderer above the Sea of ​​Fog" painted in 1817 by Caspar David Friedrich, a man looks out from a hill in front of a foggy horizon, reflecting on the infinite spectacle of nature.
The work of Friedrich gave us an opportunity to create our "traveler", engrossed in observing various horizons: we can see a sea of mountains, houses, food or furniture, garden or animals.
After painting the sky with watercolors, the students worked in pairs looking for pictures to be cut out from magazines. The subject of the horizon was chosen by each couple, and then students have searched for images related to the theme. The cropped images were then glued on the horizon, taking care to put the smaller ones on the top and gradually larger ones.
The figure of the wanderer was then painted with black acrylic paint over the collage.