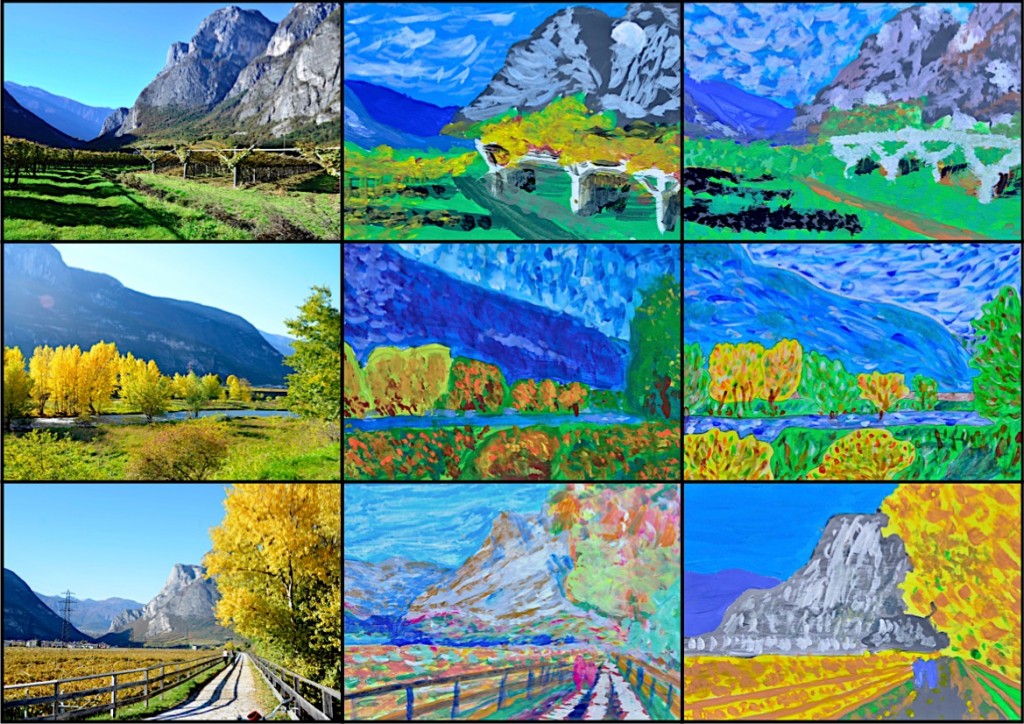 The best way to understand the Impressionist's technique is to imitate it, in front of a real natural landscape. With students of grade 8th, we compared the Impressionist's landscapes with the landscapes of our own natural enviroment. Unfortunately we can't experience the "en plain air" painting: our lessons are so short that is impossible go out in the countryside, finding the right weather and the right light, to paint a real landscape. Instead we took some pictures of natural landscape in our surroundings and after that we painted the landscape copying it from pictures with impressionist techniques. We live in Mezzolombardo (Trento), a nice small town in the North of Italy, and the Autumn's colors were beautiful. I suggested some clear steps to the students, in order to achieve the goal to paint an impressionist landscape:
1.We traced the main lines of the landscape copying them from the picture. We purposely omitted the details of the image, focusing on the main areas of color.
2.we painted the main areas of color, imitating the predominant colors in each area
3.we painted the colored areas with fast, thick and short brush strokes, with the aim to capture the essence of the subject and create an impression, rather than delving on its details. We also tried to use the technique of broken color, which means that a brown can have strokes of red, blue and yellow in it, but will appear brown from a distance. We tried to paint painting strokes of pure unmixed colors.
Here below we can see the work's steps, the finished paintings, and some photos beside the students' paintings