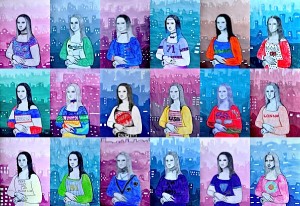 After an exciting lesson on Leonardo da Vinci we tried, like many other artists of modern and contemporary art, to play with the famous image of Mona Lisa. We wanted to create a Mona Lisa of nowadays, dressed in a trendy T-shirt, and posing in front of a background of a city. We imitated the shadows on Mona Lisa's face and hands, and the landscape that fade in the distance, as in the famous aerial perspective of Leonardo da Vinci
For the drawing of the Mona Lisa we used a worksheet that you can find here. Each student has invented his T-shirt, coloring it with colored pencils. The shadows of the face and hands are made in pencil, trying to copy the areas of shadow and light from the portrait of Leonardo.
The landscape of the city was first drawn in pencil, making sure to draw the smaller palaces behind (top on the drawing). As they come close, we made them larger, to give the impression of distance even with the enlargement of the images. With the acrylic color, we created gradations of colored grays. At first we created a dark color adding some black (blue + black, red + black, green + black…) and then we created a scale of tonal gradation adding gradually this dark color to white.
The windows of the buildings were made subsequently with white tempera or a white corrector (whitebait). The figure of the Mona Lisa has been then cut out and applied over the city to complete the work.