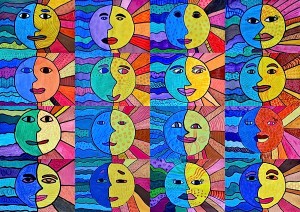 I thought of a imagine to match the feelings of "temperature" given from warm and cool colors. The idea has brought of this work, with a sun and a moon. The sun evokes the heat, the fire, and the range of warm colors, while the moon evokes the cold and the night with the range of cool colors.
We divided a drawing sheet in half horizontally, and we drew a circle in the middle. On the left of the circle we have drawn a crescent, and on the right an half sun. In this exercise, carried out with the 6° grade classes, the students had to distinguish between warm and cool colors, and try to create new colors by mixing of acrylic colors.
Each student then has painted the two parts of the drawing, with pure colors and with colors specially created. The painting was then further decorated in colored pencils with textured drawings, respecting the separation between warm and cool colors. The last touch was to add a contour in black marker, to highlight the images of the sun and moon.