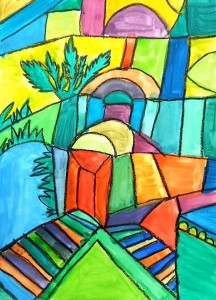 Copying freehand an artwork of Paul Klee is a joyful experience, detached from any worry of resemblance to reality. What we experience is the playful sense of childlike drawing, free from a rational draft.
Each student, in a class of Grade 6, have copied an artwork of Paul Klee, drawing the main lines without bothering to copy them faithfully, but interpreting the drawing freely. Even the watercolors were applied in a personal way: some students have chosen warm colors or cool, others have used bright and contrasting colors. To complete the design, the main lines have been redrawn with a black wax crayon, for emphasizing the shapes.
I think this is the best way to learn about this great artist!