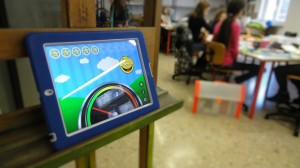 I have always some trouble in the management of noise in the Art classroom also because I realize that the kids feel (and are) actually freer than in a classic lesson in the classroom. The large tables are arranged in islands in order to create three large groups where the kids are exchanging materials, tools but even … chitchat!
There are of course rules to follow, and one of these is the management of the volume of their voice while they work (while the teacher talks, they must be silent).
I started to use the application  TOO NOISY for iPad in some classes to monitor the "noise" of the various classes and have a statistic on the different strategies to use. Here's the poster after almost three months of the experiment. The classes where there are more smiley faces have deserved to listening to music in the Art classroom!