The last spring with the 8th grade students we decided to participate in the MAIL ART PROJECT, conceived and promoted by the art teacher Federica Ciribì, curator of the site and of the VISUAL DIARY method. This project requires students from all over Italy to produce artistic postcards (size 12x15cm) and exchange them with other italian students.
124 classes, for a total of 2,728 boys and girls, took part in this "Mail Art" project. The postcards were exchanged between 47 Italian schools and as many art teachers. This year the reference artist was Paul Klee, and in particular six works were chosen to copy, interpret and revisit at will.
Our partner school, with whom we exchanged the postcards, is the "Rita Levi Montalcini School" in Savona, and the art teacher is Francesca Fatucci.
First of all we analyzed the six proposed works: they are very different from each other in terms of subjects and techniques. After that each student chose a work to interpret and chose the most suitable techniques. In the image below we see the six works by Paul Klee in small format next to some interpretations made with different techniques, such as watercolor, oil pastels, collage, markers and mixed media.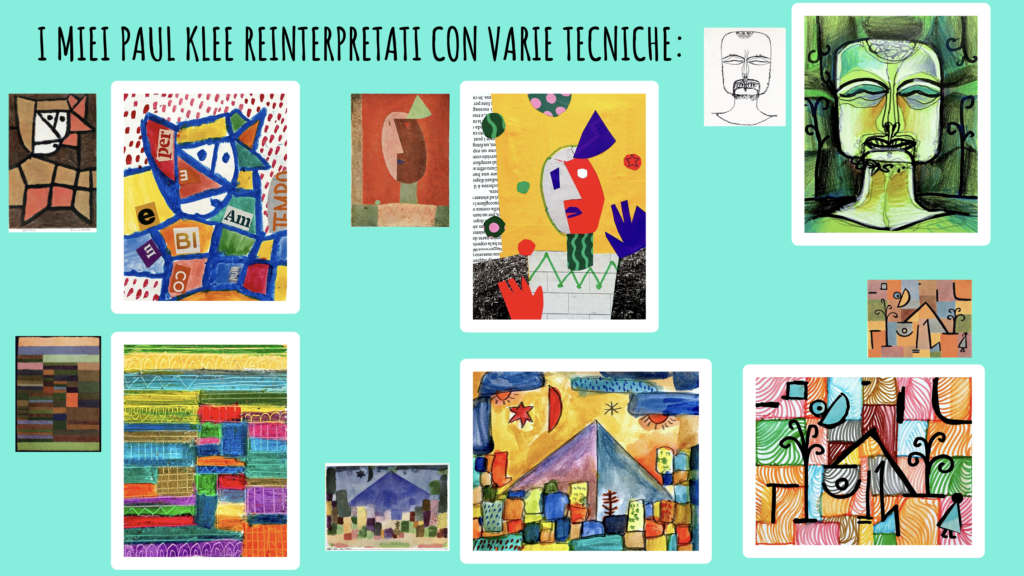 On the back of the postcards we glued the template of a postcard, then we drew the stamp and wrote the address, the date and a message to send to our friends in Savona.
In May we received postcards from the students of Savona and everyone chose the one they liked most!
ecco alcune delle nostre piccole opere spedite in Liguria: