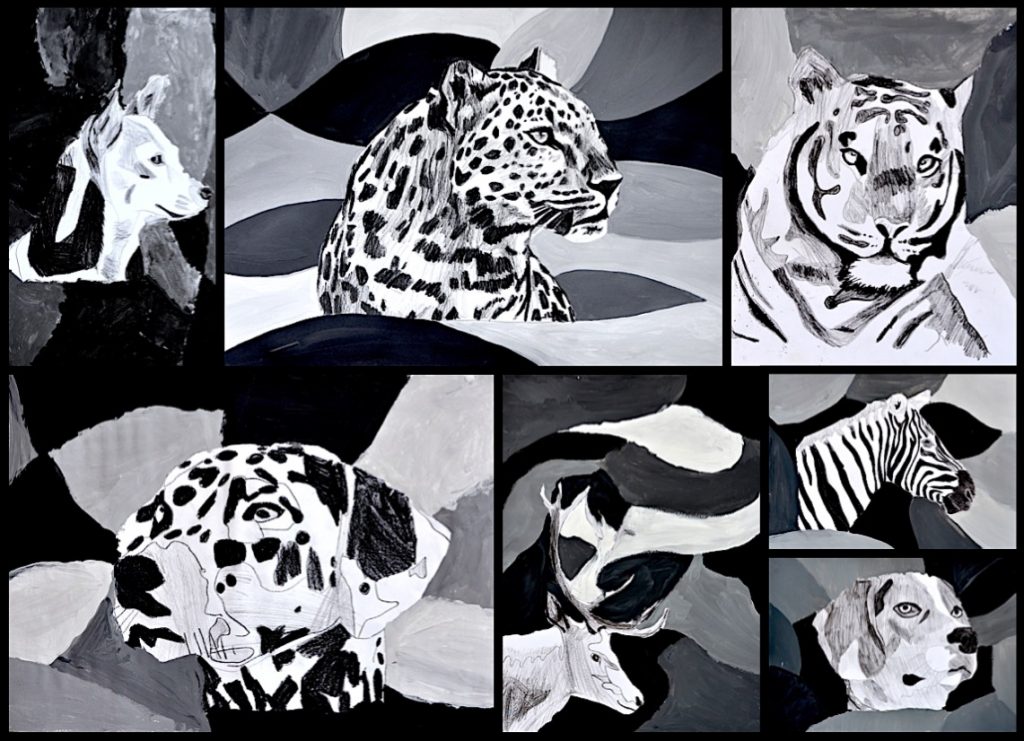 These mixed media paintings were created by students of 6th Grade in order to work on achromatic colours and greys scale. To realize this painting you need:
– A picture in black & white of an animal
– Tracing paper
– Drawing sheet
– Pencil and artist tape
– Black coloured pencil
– Black and white paint (tempera or acrylic paint)
– Paintbrushes
First at all you trace the main lines of the picture on the tracing paper with a pencil. Pay attention not only about tracing the outlines of the animal you are copying, but also the areas with shadows and lights. After that you trace the same lines on the drawing sheet, overlapping the white paper on the tracing paper. Could be useful to paste the drawings on a window with artist tape.
Subsequently you use the coloured black pencil to colour the animal. In this step is very important to observe the original picture in its details, in order to copy the right tones of grey.
Following the main line of the picture and copying the areas of black, white and greys, you'll be able to obtain a realistic copy of the animal.
After finishing the drawing you draw some curved lines on the background, dividing it in a dozen of free-shaped areas. Every area will be painted in a different scale of grey, from the darkest to the lightest, in order to create an abstract background.
To obtain the scale of greys you mix different amounts of black and white paint.