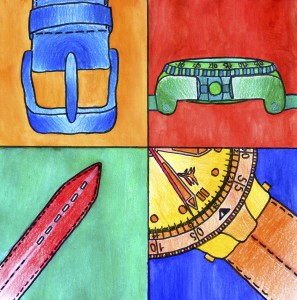 The observation of an object from very close sets in motion thoughts about how it is made, what are the parts that compose it, and what the mechanisms that move the parts. But draw an object in its details is a further step towards the knowledge of that object, and hands, you know, have a potential memory that let us "know" this object forever.
We are thinking about the study of plants in botanical and application of drawing as a tool for scientific analysis; we are thinking about Leonardo da Vinci, who, through the design, understood the complex mechanisms of nature.
In 8th grade classes, we have analyzed the topic "copy the details of an object", and each student has brought from home a small object, choosing between tools and equipment with a shape not too simple. Observing the object closely everyone chose 4 different shots, with different angles.
The design was drawn with simple contour lines in pencil, and some students helped himself with a small square frame, putting it in front of the object in order to choose the shots.
The background is painted with watercolors while the object is shaded in monochrome tints with colored pencils. The colors create strong contrasts that valorise the shapes. The lines have been redrawn with a black marker, for emphasizing the details.