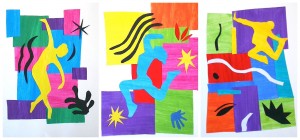 An important exhibition in 2014 at the Tate Modern in London was dedicated to a giant of modern art  Henri Matisse (Henri Matisse: The Cut-Outs, 17 April – 7 September 2014). This exhibition explored the final chapter in his career in which he began 'carving into colour' and his series of spectacular cut-outs was born. We were inspired by Matisse cut-outs to create these collages following the same technique of his "gouaches découpès"
Matisse invented a systematic approach to the technique of his cut outs: first, his studio assistants brushed Linel gouaches on sheets of white paper. Once dry a stockpile  of colored paper were available to Matisse at any given time. He often quite spontaneously cut out elements and placed them into compositions.
We used the same technique of Matisse, painting a lot of colored papers and cutting out the shapes directly with scissors. For the shape of the human body we copied a picture on the colored paper.