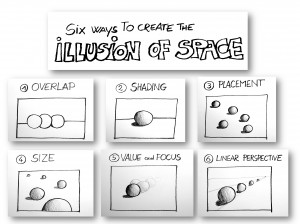 There are six easy ways to make our three-dimensional drawings and give the illusion of depth and space; through these six tips we could see through the history of art and discover how artists have developed increasingly more sophisticated systems to deceive the viewer's eyes and show non-existent spaces:
1. OVERLAP
2. SHADING
3. PLACEMENT
4. SIZE
5. VALUE and FOCUS
6. LINEAR PERSPECTIVE
I prepared this video to summarize these six tricks: we can use it in our lessons!