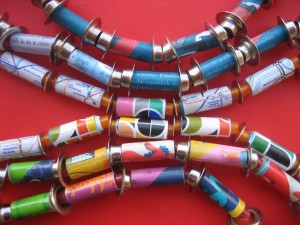 My friend Alessandra Tombesi suggested to me this work that she has created for the market of the school and that was very much appreciated.
To realize these beautiful necklaces we need:
– Paper strips 1.5 / 2 cm max (length as the height of the magazine page's, 29/32 cm)
– Straws to cocktail
– PVA glue
– Washers or other items of hardware
– A strong thread
– varnish to paper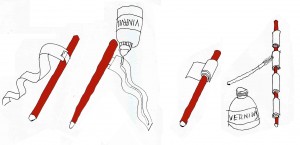 The paper strip is fixed to the straw with a piece of tape, then apply some PVA glue on the back of the strip and rolls up the paper strip pulling well on the straw (5 rolls on each straw). In order to complete the  paper pearl, cover it with clear varnish and let it dry. The beads are cut when they are dry, leaving a piece of straw on each end.
Thank you Alessandra!