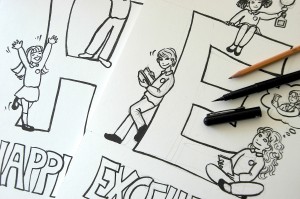 After a year in Bristol I'm going back to Italy. I have worked with pleasure at Cherry Garden Primary School and, as a goodbye gift, I have drawn the banners with the key words that recall the values ​​taught daily in the school.
In English schools there is a special education on the values, ​​and every day children are reminded of the words that focus on human growth, on respect, on learning to live with others, on the ability to overcome difficulties.
Even in Italian schools we would need these words!